Military planes plant crop of circles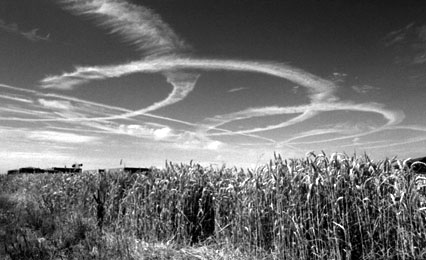 Photo: Chris Pietsch / The Register-Guard

Military aircraft performing training maneuvers Thursday left a series of circular contrails in the sky over the Willamette Valley.

A spokesman at the Seattle office of the Federal Aviation Administration confirmed that the aircraft were performing "military peacetime training" possibly along the Oregon Coast.
The Seattle office had no specific information about where the aircraft were from.
Diana Bell, a spokeswoman for the Eugene Airport, said the planes were Army Airborne warning and control system aircraft.
Such aircraft typically perform surveillance as well as command and control for air and ground operations.
Location of original story:
http://www.registerguard.com/news/2003/07/25/c2.cr.circles.0725.html