Published in the June, 2005 issue
Making Their Skin Crawl
People with creepy symptoms find a diagnosis on the Internet.
But are they jumping to conclusions?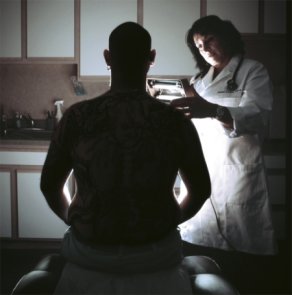 BY BENJAMIN CHERTOFF
Photograph by Brent Humphreys

Miles Lawrence, a landscaper in Florence, Texas, was supposed to be packing for a road trip to Las Vegas when he noticed his finger tingling. He stared in disbelief, he says, as "little spiny things" sprouted out of the skin where he'd just removed a splinter. He grasped one of the spines with tweezers and pulled.
Instantly, he says, a bolt of pain shot up his arm. He tugged on another one and the pain snaked up his neck. Then the really creepy part began. "It felt like bugs under the skin of my arms, in my joints," Lawrence says. "I freaked out."
Across the country, thousands of people complaining of the same horrifying phenomenon have formed an illness subculture. They share lists of symptoms, medical speculation and tales of run-ins with mainstream doctors at www.morgellons.org, the official Web site of a group called the Morgellons Research Foundation. It was founded in 2002 by Mary Leitao in McMurray, Pa. Leitao named the condition Morgellons Disease--after a disease with similar symptoms mentioned in a 16th-century medical text--while investigating a skin affliction on her then-2-year-old son.
Morgellons has barely registered on the radar of mainstream medicine. Few doctors have heard of the condition; fewer still know what to make of it. So when people walk into an examination room and announce they have Morgellons, they are often met with skepticism. Conflicts would seem to be inevitable.
"Dermatologists are afraid to see these patients," says Dr. Peter Lynch, professor emeritus of dermatology at the University of California, Davis. He says he has examined about 75 people with Morgellons-like symptoms in the past 35 years and believes they suffer from delusional parasitosis--literally, delusions of parasites in the skin. It's a diagnosis people don't like. One patient, threatening malpractice, convinced the state medical board to investigate Lynch. Another warned he had a pistol in the glove compartment of his truck, Lynch says. "He told me, 'I'm going to shoot the next doctor who tells me it's in my head.'"
LAB RESULTS

Members of the Morgellons online community say that, like those who suffer from breast cancer and AIDS, they merely want appropriate resources devoted to their illness. A letter-writing campaign recently netted a modicum of high-profile attention when U.S. Sens. Dianne Feinstein and Dick Durbin contacted the Centers for Disease Control and Prevention (CDC), asking whether the organization had investigated the illness. The answer was no. "Our laboratories are available," says CDC spokeswoman Jennifer Morcone. "But we need a clinically appropriate sample." So far, she says, they've only received samples sent in by patients.
There's a reason for that. Lynch and a number of other doctors say they have sent samples to hospital pathologists, medical labs and state health boards, which have uniformly failed to find any sign of an infection. If there's nothing tangible to investigate, there's no reason to call in the big guns at CDC headquarters.
BACTERIA CULTURE

When Miles Lawrence sped to the hospital, he was told he had delusional parasitosis and that the weird spines were "just dirt." But over the next week his symptoms got worse. He scratched at his elbows and noticed more fibers, and little black specks. "It was like they were fighting back," he says.
Eventually, he found his way to a medical professional who does take the idea of Morgellons seriously. Ginger Savely, a nurse practitioner in Austin, Texas, says she has treated 35 patients with symptoms. "Everyone tells the exact same story," she says. "It's just so consistent." Savely prescribes her patients a course of broad-spectrum antibiotics. "If I knew what I was dealing with," she says, "it would be easier to treat." Yet, she says, her patients--including Lawrence--improve within weeks.
Other clinicians have likewise prescribed antibiotics. Dr. Raphael Stricker, a Lyme disease specialist in San Francisco, sees a handful of Morgellons patients--all of whom have tested positive for chronic Lyme disease. He thinks that Borrelia burgdorferi, the bacteria behind Lyme disease, has set his patients up for another, as-yet-unidentified, infection. And Dr. George Schwartz, a Santa Fe, N.M., trauma specialist, treats his patients with antibiotics targeted to Stenotrophomonas maltophilia--a usually harmless waterborne bacterium--and says he's seen them improve in only 48 hours.
HEAD GAMES

The apparent success of antibiotic treatment for Morgellons hasn't swayed doctors like Lynch--mainly because pathologists have failed to find an infectious agent. "These scientists can recognize things down to the prion level, and viruses that do everything to evade detection," he says. Lynch's preferred treatment: the antipsychotic drug risperidone--which works, he says, in as little as two weeks.
Another prominent dermatologist, who insisted on anonymity out of concern for his safety, says he has diagnosed 50 or so Morgellons patients with cutaneous dysaesthesia--a neurological disorder that can result in the sensation of scuttling insects. And the spiny things? "In every case I've seen it's a textile fiber, and it's on the surface of the skin," he says. He typically puts a cast over the lesions to prevent further irritation and after four weeks removes it. "Guess what?" he says. "The lesions are healed."
Leitao and other Morgellons activists say that, with the Web as a primary tool, they'll continue working to have the illness investigated as an infectious disease. Doctors interviewed by PM say this unilateral approach hinders objective analysis of symptoms they've seen for decades. Well, all symptoms except for one: Widespread reports of the strange fibers date back only three years, to the time they were first described online, at www.morgellons.org.
Article archived here: http://www.popularmechanics.com/science/medicine/1662162.html