TRAGIC FIRE BURNS PRESIDENTIAL LIBRARY
Washington, D. C. (undisclosed news service) February 1, 2003.
Early this morning a devastating fire burned down the personal library of President George W. Bush. Tragically, both books were lost in the conflagration. More poignantly, the President, due to his hectic schedule, had not found time to finish coloring in the second one.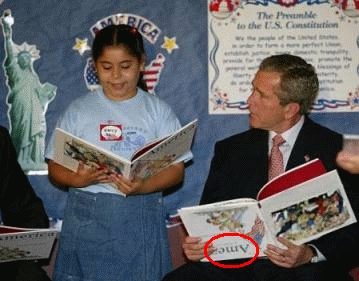 "A Nation Turned Upside Down"
Photograph Courtesy of "The Biggest Secret Forum"
http://thebiggestsecretpict.online.fr/nwo.htm
and Message Board Researchers JD Clampett and Gar Fla

Uploaded May 7, 2003